Animate CC Training
You are here: Home > Animate Training Classes > Animate Level 1

Create, Draw, Animate & Design!

Animate CC| Level 1 teaches beginning students with no prior Animate experience the knowledge and hands-on practice they need to create rich media ads, presentations, animation, and interactive multimedia for web and desktop. Learn about vector and bitmap graphics, create vector art, learn how to animate, create symbols (graphic, movieClip, and Button), instance properties, instance effects, filters, motion guides, masking, and more!
Create Art and Animate with Adobe Animate CC
Learn how easy it is to draw in Animate CC and then animate your art in a Animate CC! Create animated movies creating everything from scratch as you master Adobe Animate.
Learn how Animate CC works with the web!Its pro's, its cons, and tips & tricks

Create art with Animate CC drawing tools, create symbols, add scenes, use gradients, masks, create animation using motion tweens, frame-by-frame animation, and lerarn how to use the Motion Editor to create animations, animate using color effects, transparency, filters, and easing.

Create MovieClips using frame-by-frame animations and other symbols and art. You will create art from scratch and then animate it! Using motion guides to create a path for your animation, , create lightning in Photoshop and import it into Animate CC and see how these programs can work seemlessly! You'll add images, sound, video, and use color effects, masking and filters for dynamic animation... all this and more in this fun 3 day class!
Audience
Animate CC: Level 1 is for students who are new to Animate CC (or who have used Animate only to build applications) that want to use it to build rich media applications that effectively use animation, sound, text, graphics, and video.
Prerequisites
Basic Computer Skills & File Management on Windows or Mac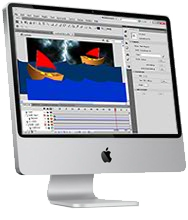 Animate CC Training Outline | Level 1
Introduction to Animate CC
What is Animate CC?
What happened to Flash?
What is an HTML% Canvas
What is a SWF?
About the Flash Player and plugin
Setting up your Workspace in Adobe Animate CC
Organizing Panels and panel groups
Creating a canvas in Adobe Animate CC
Setting up new documents
Setting Document Properties
The Stage and Work area
The Animate CC Tools panel
The Property Inspector
Introducing the Timeline
Practicing with Animate CC drawing tools
Learning drawing and selection tools
Getting Started with the Drawing Tools
Drawing in Animate CC
Working with Drawing Objects
Adding text to your artwork
Working with colors
Creating gradients
Using the Gradient Transform Tool
Creating and saving custom colors
Organizing and layering graphics
Working with layers
Arranging, locking, and hiding layers
Transforming graphics
The Transform panel and Free Transform too
Setting preferences
Identifying the development cycle
Publishing a file
Creating and Importing Graphic Assets
Creating Original Artwork in Animate CC
Using Animate CC Tools to manipulate and create artwork
Working with different graphic formats
What are Bitmap Graphics?
What are Vector Graphics?
Importing bitmap graphics
Importing vector graphics
Working with layers and layer folders
Working with the Color panel
Creating and using Graphic Symbols
Swapping out an imported file
Modifying imported artwork
Importing a layered Photoshop file
Importing Illustrator artwork
Using Text Effectively
Using the Text tool
Adding and formatting static text
Changing font rendering methods
Anti-Aliasing Fonts for Readability and Animation
Breaking Text Apart for Animation
Using Symbols and the Library
What are symbols?
Creating and Updating Symbols
A look at the Library panel
Converting a graphic to a symbol
Building artwork with symbol instances
Positioning and snapping in symbol instances
Editing and duplicating symbols
Editing symbols in place
Modifying instances
Duplicating symbols
Adding graphics and text
Swapping symbols
Managing and Working with the Library
Importing External Libraries
Organizing symbols with folders
Graphic Symbols vs Movie Clip Symbols
Advanced Tools
Working with Onion Skinning for frame-by-frame animation
Editing Multiple Frames
New Animate CC tools for advanced drawing
Masking Techniques
Animated Masks
Introducing the Deco tools
Creating Basic Animation
Introducing keyframes and the Timeline
Creating Animations using Symbols and Motion Tweens
Tween layers and automatic keyframing
Tweening multiple objects
Previewing animation with Test Movie
Animating on a motion guide
Orienting Animations to a path
Incorporating color effects and Transformations
Introducing the Motion Editor
Modifying animations using the Motion Editor
Tweening rotation
Morphing graphics and colors with Shape Tweens
Legacy techniques: Creating classic tweens
Adding color effects and scaling to a classic tween
(Re)creating motion guides for classic tweens
Adjusting animation with onion skinning
Advanced Animation
Copying, pasting, and saving animation
Duplicating Animations
Using Symbols inside of symbols for
Using Copy and Paste Motion
Using and Creating Motion Presets
Applying Advanced Easing Behavior
Animating Masks
Creating Animation with IK Poses
Sequencing Animation
Shifting, Moving, and Extending Tween Spans
Rendering and Animating in 3D
The 3D Rotation tool
The 3D Translation tool
Fine-Tuning Tweens with the Motion Editor
Adding shape tweens and shape hints
Creating Shape Hints
Animating Color Effects
Creating and Animating Filters (drop shadows, bevels)
Customizing Your Workflow
Customizing workspace layouts
Using Shortcuts Keys
Managing workspaces
Setting preferences
Keyboard shortcuts
Visual aids for alignment
Rulers and guides
Guide layers
Advanced alignment
Refining your aligned objects
Using Moving Clips
Creating and using Movie Clip symbols
Organizing a Movie Clip Timeline
Using frame labels
Responding to user interactions
Adding Sound and Video
Importing sound
Changing sound properties
Event, Start and Streaming Sound
Adding sound to a Timeline
Modifying and Editing Sound
Embedding video in a Timeline
Using the FLVPlayback component
Publishing Animate CC Documents
Publishing and Exporting Animate CC files
Exporting to different formats
Creating Templates
Using publishing profiles
The Bandwith Profiler
Publishing for deployment
We offer Adobe Certified Animate CC Training classes in Los Angeles
Austin | Dallas | Houston | Newport | Phoenix | Sacramento | San Diego | San Francisco
and many other cities throughout the country via our partner network.

We offer Group Adobe Animate CC Classes,
1-on-1 Animate CC Training, Live Online Instructor-Led Animate CC Training,
and Onsite Animate CC Training nationwide.
________________________________________ Top^
Adobe CC Training: We offer classes in all Adobe CC Applications