After Effects Training

Motion Graphics and Video Post-Production
After Effects | Level 1 is a beginner class in Motion Graphics & Hollywood Style
Visual Effects for cinema, television and web formats. Learn how to add dynamic animation and motion effects to your videos, photos, art, logos, and audio, and it bring objects to life.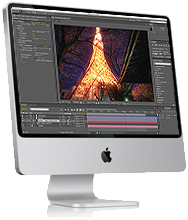 Audience
Our Adobe After Effects CC course is for video communications professionals or new learners who need an essential understanding of motion graphics and compositing.
Prerequisites
Basic Computer Skills & File Management on Windows or Mac
Intro to After Effects
What is After Effects?

What kind of media can it be used to create?

What kind of media can be imported into After Effects?

The advantages of Adobe product integration
Best practices for organizing your work

A typical After Effects workflow sequence
After Effects Project Management
What kind of media output is required?

What is the playback format for final output?

What restrictions are there for the

projects physical window frame size?

What restrictions are there for the projects frame rate?

What restrictions are there for graphical screen-based assets?
Setting Up an After Effects Project
RAM and real-time rendering

Setting Preferences

Creating a Composition

Understanding and navigating the After Effects workspace

Working with After Effects Tools
Importing and Manipulating GRAPHICS
Importing Photoshop layered files

Importing Illustrator layered files

Working with layers and properties

Animating layer properties

Round-trip Editing:Editing graphics using an external editor from within After Effects
Importing and Manipulating VIDEO CLIPS
Importing QuickTime movies

Video compression issues

Time-base issues

Frame rate issues

Laying video clips into the Time Layout Window

Changing video clip properties

Animating video clips

Superimposing video clips
Importing and Manipulating SOUND
Importing Sound

Audio compression issues

Manipulating sound cues in the Time Layout Window

Synching sound to visual events

Sound filters

Sound processing effects
Creating TEXT and TITLES
Importing text as bitmap graphics

Creating text within After Effects

Editing imported text within After Effects
Working with EFFECTS AND TRANSITIONS
Working with visual effects

Working with visual effect transitions
Working with MASKS
Transparency in the After Effects environment

Understanding alpha channels, masks, mattes, and keying

Creating masks in After Effects
Importing and Manipulating PREMIERE
Understanding Adobe Premiere

Importing Premiere projects into After Effects

Editing Premiere files using Premiere as an
external editor from within After Effects

Editing After Effects files using After Effects as an
external editor from within Premiere
Final Project File RENDERING
Testing for final export

Final file rendering for a variety of output formats

Choosing rendering options
Register for After Effects Training

We offer Adobe Certified After Effects Training classes in Los Angeles
Austin | Houston | Phoenix | Sacramento | San Francisco | Online
and many other cities throughout the country via our partner network.

We offer Group After Effects Classes,
1-on-1 After Effects Training, Live Online After Effects Training,
and Onsite After Effects Training nationwide.
________________________________________ Top^