Adobe FrameMaker Training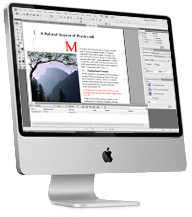 Previous
Next

FrameMaker Level 1 | Beginner
---
Our FrameMaker beginner class introduces the program as a word processing application with muscle. Create flowing text documents using reusable master pages, paragraph, table and character styles. Export PDF documents ready for print.

FrameMaker Level 2 | Intermediate
---
Delve deeper into FrameMaker and learn the tools that will help you advance and create quicker and more complex documents easily.
Get tips and tricks to work smarter and faster in this two day FrameMaker class.

FrameMaker | Formatting & Template Development
---
Learn to create and fully define the elements of a template. Topics include definition of Paragraph and Character Formats, Cross Reference Formats, Table Formats, Master Pages and assignment tables, Header and Footer Variables, Conditional Text..
"My headTrix training really was excellent. David was obviously expert with FrameMaker, as well as InDesign (which is what we currently use). It was helpful that he was so familiar with both programs because he seemed to understand my mindset. He was also very accommodating in addressing some of my specific concerns with regard to our Company's publications, but without deviating significantly from our itinerary. My concerns about live online training were alleviated after just a few hours. I realized that watching and listening to a seasoned-user was as valuable as a classroom experience."
- L. Allen, RHC/Technical Publications

Register for FrameMaker Training

We offer Adobe Certified FrameMaker Training classes in Los Angeles
Austin | Houston | Phoenix | Sacramento | San Diego | San Francisco | Online
and many other cities throughout the country via our partner network.

We offer Group FrameMaker Classes,
1-on-1 FrameMaker Training, Live Online Instructor-Led FrameMaker Training,
and Onsite FrameMaker Training nationwide.
________________________________________ Top^