Illustrator Training

Advanced Tools, Tips, & Techniques
Illustrator | Level 2 will delve deeper into more advanced Illustrator tools and techniques like creating your own brushes, using the Gradient mesh tool, 3D objects and more!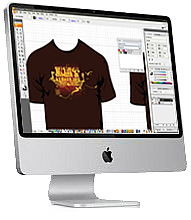 Audience
Adobe Illustrator | Level 2 is intended for designers looking to advance their skills with Illustrator, learning new features, new work flows, tips, tricks and advanced features.
Prerequisites
Basic Computer Skills & File Management on Windows or Mac
Have taken the Illustrator | Level 1, or equivalent knowledge
NEW FEATURES
Advanced Stroke Options
Bristle Brush
Shape Builder Tool
Perspective Drawing
ADVANCED TOOLS
Blob Brush
Blend Tool
Perspective Tool
Width Tool
Shape Builder Tool
CREATING CUSTOM BRUSHES
Designing a Brush Tip
Creating Custom Brush from Artwork
Paint Brush Tool Options
Working with Pattern, Art and Scattered
Brushes
Using Custom Brushes as Strokes
TYPOGRAPHY AND FORM
Creating and applying paragraph styles
Creating and applying character styles
Loading styles from another document
Working with Glyphs
Converting fonts to paths
GRADIENT MESH TOOL
Understanding the Mesh Tool
Adding Mesh Lines to an Object
Mesh Patch vs Mesh Point
Modifying Anchor Points
Applying Color to a Mesh Object
CREATING 3D OBJECTS
Using graphic styles
Using Tools
Creating Outlines for 3D shapes
Mapping Artwork to 3D shapes
CREATING GRAPHICS FOR FLASH
9-Slice Objects
Creating Movie Clip Symbols
Importing Illustrator into Flash
Working with Illustrator layers in Flash
Animating Illustrator Objects in Flash
PHOTOSHOP AND ILLUSTRATOR
Importing Illustrator Projects into Photoshop
Understanding Smart Objects
Applying Photoshop Effects to Illustrator
Artwork
Importing Photoshop Projects into Illustrator
ADVANCED TECHNIQUES WITH CLIPPING MASK
Applying Clipping Mask
Making Compound Shapes with Pattern Fills
Compound Shapes as Clipping Masks
Clipping Mask with Effects
Combining Clipping Masks
PERFECTING THE APPEARANCE PANEL
Using the Appearance Panel
Editing Appearance Panel Attributes
Adding Multiple Stoke and Fill Options
Creating Cartoon Style Text
Layering Effects
OUTPUTTING FILES
Advanced PDF Save Options
Securing PDF Options
Saving for Word and Selected Slices
Save for Web and Devices Options for Optimization features
NEW FEATURES COVERED
Interactive documents and presentations
Simplified object selection and editing
Multiple page sizes
Track text changes
Paragraphs that span and split columns
All-new Layers panel
Production enhancements
Print to digital
Live captions
Work Area Review
Quick Keys
Tools Panel
Control Panel
Viewing and arranging Panels
Panel menus
Save a Workspace
Navigating the document
Scrolling through a document
Using InDesign Help
InDesign Foundations Review:
Resolution & Color for Print & Screen
When to use InDesign, Illustrator or Photoshop
File Formats
Know what a Raster and Vector is
Importing and Exporting
Import Text, Clean or Formatted
Import Layered Files
Modify Visibility of Layered Files
How to use a Library
Export Web Ready Graphic
Export Postscript File
Working with Styles
Creating and applying paragraph styles
Creating a character style
Nesting character styles
Creating and applying object styles
Creating and applying cell styles
Globally updating styles
Loading styles from another document
Create a Template
Importing & Creating Tables in InDesign
Formatting and editing tables
Adding and deleting columns
Using graphics within tables
Formatting text within a table
Working with styles and tables
Working with Transparency
Colorize an Imported Graphic
Change Opacity of Objects
Apply Transparency to Text
Use Photoshop Blending Modes
Use Feathering
Apply Multiple Effects
Edit or Remove Effects
Unique Text and Graphics
Illustrator Tools in InDesign
Use Pathfinder
Text as Graphics Frame
Use Fitting
Type on a Path
Not your Basic Text Frame
Inline Graphics
Type Effects from Photoshop
Photo Effects from Photoshop
Register for Illustrator Training

We offer Adobe Certified Illustrator Training classes in Los Angeles
Austin | Houston | Phoenix | Sacramento | San Francisco | Live Online
and many other cities throughout the country via our partner network.

We offer Group Illustrator Classes,
1-on-1 Illustrator Training, Live Online Instructor-Led Illustrator Training,
and Onsite Illustrator Training nationwide.
________________________________________ Top^