Adobe Character Animator Webinar

Adobe Character Animator | Live Online Webinar
From puppet to performance
Create your own characters and bring them to life with Adobe's Character Animator. Learn how to create photoshop puppets and bring them to life and get them talking with dynamic animated performances in Character Animator. We'll explore the basics of rigging, animation, syncing audio, and live performance, setting you on the path to becoming a character animation pro in no time!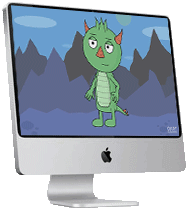 Audience

This course is a Beginners course - No experience necessary
Prerequisites
Basic Computer Skills & File Management on Windows or Mac
I. Introduction (5 minutes)
Introduction to Character Animator
II. Setting the Stage (10 minutes)
Understanding the workspace and interface
Understanding the various Ch Modes
Creating a new character project
III. Creating your own Character (10 minutes)
Creating your own character
Customizing your character
IV. Rigging Your Character (15 minutes)
Adding rigging and controls to your puppet
Preparing for character animation
V. Animation Basics (15 minutes)
Exploring the timeline and keyframes
Simple character movements and facial expressions
VI. Live Performance (20 minutes)
Setting up for live character performances
Interacting with your character in real-time
VII. Q&A (10 minutes)
Addressing questions from participants
Register for Adobe Character Animator - ANIMATED CHARACTERS Webinar

We offer Adobe Certified Adobe Character Animator Training classes in Los Angeles
Austin | Houston | Phoenix | Sacramento | San Francisco | Live Online
and many other cities throughout the country via our partner network.

We offer Group Adobe Character Animator Classes,
1-on-1 Adobe Character Animator Training, Live Online Instructor-Led Adobe Character Animator Training,
and Onsite Adobe Character Animator Training nationwide.
________________________________________ Top^