Photoshop Webinar

Adobe Photoshop | Live Online Webinar
GIFS, VIDEO, MOTION, CINEMAGRAPHS, OH MY!
Learn how to get things moving in Adobe Photoshop! Join us for this one-hour webinar and learn how to bring your artwork to life! Learn how to use the Photoshop timeline, layers, keyframes, the puppet tool, and effects to create Animated GIFS, Cinemagraphs and Videos with Adobe Photoshop! Acquire time saving productivity tips for setting up your workspace, importing your media, and optimizing your images. Edit video, add titles, color correct images, add audio and export to GIF and Mp4.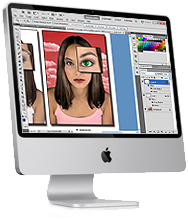 Audience

This course is an Intermediate/Adv Course. Photoshop experience helpful
Prerequisites
Basic Computer Skills & File Management on Windows or Mac
I. Introduction (5 minutes)
Welcome and Introduction
Quick Tips
II. Workspace Optimization (5 minutes)
Optimizing your Workspace for Productivity
Organizing, saving, and resetting workspaces
III. Web Optimization Settings (10 minutes)
Discuss various GIF optimization settings in Photoshop
Offer tips for optimizing GIFs for different purposes
IV. Creating Animated GIFs (20 minutes)
Introduction to Photoshops Timeline
Share tips for effective and engaging animations
Animated GIF Showcase
Define animated GIFs
Demonstrate the creation of a basic animated GIF in Photoshop
V. Using Keyframes to Add Motion (10 minutes)
Using Keyframes and the Timeline in Photoshop
Using Puppet Warp for Frame-by-Frame animation
VI. Importing and Exporting Video in Photoshop (15 minutes)
The Video Timeline in Adobe Photoshop
Demonstrate importing and editing video using the timeline and layers panel
Editing video and adding Transitions, & audio
Showcase exporting options for GIFs, video files, and Cinemagraphs
VII. Creating Animated Cinemagraphs (15 minutes)
Define Cinemagraphs and explain their uses
Demonstrate the creation of a basic animated Cinemagraph in Photoshop
Share tips for effective and engaging animations
VIII. Q&A and Conclusion (10 minutes)
Open the floor for questions from attendee
Register for Adobe Photoshop - Creativity Unleashed Webinar

We offer Adobe Certified Adobe Photoshop Training classes in Los Angeles
Austin | Houston | Phoenix | Sacramento | San Francisco | Live Online
and many other cities throughout the country via our partner network.

We offer Group Adobe Photoshop Classes,
1-on-1 Adobe Photoshop Training, Live Online Instructor-Led Adobe Photoshop Training,
and Onsite Adobe Photoshop Training nationwide.
________________________________________ Top^