After Effects Training

Motion Graphics and Video Post-Production
After Effects | Bootcamp training is an in depth hands-on beginning thru intermediate class combining both level 1 & 2 into an integrated bootcamp. Learn this great tool for creating motion graphics and Hollywood style effects for cinema, broadcast television and web formats. Learn to create rich compositions with video, Photoshop files, Illustrator files, and create motion graphics, motion tracking, masking, advanced 3D & more.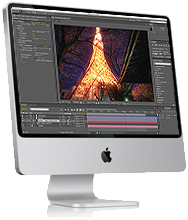 Audience
Our Adobe After Effects Bootcamp course is a combination of
After Effects | Level 1 and After Effects | Level 1.
This class is designed to get the beginner student up and running in After Effects and motion graphics and compositing. You will learn beginner through intermediate skills.
Prerequisites
Basic Computer Skills & File Management on Windows or Mac
Real-World Usage of After Effects
What is After Effects?

What kind of media can it be used to create?

What kind of media can be imported into After Effects?

The advantages of Adobe product integration

A typical After Effects workflow sequence
After Effects Project Management
What kind of media output is required?

What is the playback format for final output?

What restrictions are there for the

projects physical window frame size?

What restrictions are there for the

projects frame rate?

What restrictions are there for graphical screen-based assets?
Setting Up an After Effects Project
RAM and real-time rendering

Setting Preferences

Creating a Composition

Understanding and navigating the After Effects workspace

Working with After Effects Tools
Importing and Manipulating GRAPHICS
Importing Photoshop layered files

Importing Illustrator layered files

Working with layers and properties

Animating layer properties

Round-trip Editing:Editing graphics using an external editor
from within After Effects
Importing and Manipulating VIDEO CLIPS
Importing QuickTime movies

Video compression issues

Time-base issues

Frame rate issues

Laying video clips into the Time Layout Window

Changing video clip properties

Animating video clips

Superimposing video clips
Importing and Manipulating SOUND
Importing Sound

Audio compression issues

Manipulating sound cues in the Time Layout Window

Synching sound to visual events

Sound filters

Sound processing effects
Creating TEXT and TITLES
Importing text as bitmap graphics

Creating text within After Effects

Editing imported text within After Effects
Working with EFFECTS AND TRANSITIONS
Working with visual effects

Working with visual effect transitions
Working with MASKS
Transparency in the After Effects environment

Understanding alpha channels, masks, mattes, and keying

Creating masks in After Effects
Importing and Manipulating PREMIERE
Understanding Adobe Premiere

Importing Premiere projects into After Effects

Editing Premiere files using Premiere as an
external editor from within After Effects

Editing After Effects files using After Effects as an
external editor from within Premiere
Final Project File RENDERING
Testing for final export

Final file rendering for a variety of output formats

Choosing rendering options
Keying
About keying
Changing background color
Creating a garbage mask
Adding the foreground subject
Color Difference Key effect
Choking the matte
Removing spill
Adjusting contrast
Background animation
Titles
Adding animated elements
Copying effects across layers
Performing Color Correction
Lesson overview
Getting started
Adjusting color balance
Replacing an element of the shot
Lightening other dark areas
Correcting a range of colors
Warming colors with the Photo Filter effect
Removing unwanted elements
Building and Animating a 3D Object
Animating a square in 3D space
Using 3D views
Flipping the cube bottom
Creating the 3D floor
Building the cube sides
Animating the cube sides
Using 3D Effects
Using 3D lights
Turning on shadows
Working with Cameras
Adding a camera
Adding animated elements
Adding logos
Advanced Editing Techniques
Temporal Distortion: Timewarp
Parallax
Using Motion Stabilization
Single-point motion tracking
Multipoint tracking
Creating Particle Systems
Introduction to Particle systems
Particle worlds: Cyclore effects
Customising particle effects
Understanding particle system properties
Rendering and Output
Creating templates for the rendering process
Creating templates for output modules
Rendering to different output media
Register for After Effects Training

We offer Adobe Certified After Effects Training classes in Los Angeles
Austin | Houston | Phoenix | Sacramento | San Francisco | Online
and many other cities throughout the country via our partner network.

We offer Group After Effects Classes,
1-on-1 After Effects Training, Live Online After Effects Training,
and Onsite After Effects Training nationwide.
________________________________________ Top^