Photoshop Lightroom Training

Manage your collections & TOUCH-UP your photos
Lightroom | Level 1 teaches you how to import and catalog your photos, organize and manage into collections and libraries with keywords and rank. Easily find your images, color correct, optimize, crop, export to photo galleries and share with your friends, family, or clients. Let's get organized and creative!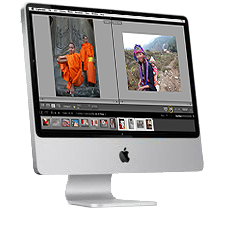 Audience
Lightroom: Level 1 is for Photographers or Hobbyists looking to manage, catalog, rank, and enhance their photo collection
This course is a beginner level class for those new to Adobe Lightroom. Also recommended by Adobe for those planning to obtain the Adobe Certified Expert (ACE) status.
Prerequisites
Basic Computer Skills & File Management on Windows or Mac
Introduction to Lightroom
What is Lightroom?
Importing your images
About catalog files
Managing photos in a library
Non-destructive editing
The Lightroom workspace
The top panel
The work area
The left and right panel groups
The Toolbar
The Filmstrip
Photoshop Lightroom Workspace
Customizing the workspace
The Lightroom modules
The Library module
The Develop module
The Map module
The Book module
The Slideshow module
The Print module
The Web module
The Lightroom workflow
Importing photos
Reviewing and organizing
About keyword tags
Working in slideshow mode
Creating a collection
Rearranging and deleting images in a collection
Comparing photos side by side
Comparing several photos
Developing and editing
Using Quick Develop in the Library module
Working in the Develop module
Straightening and cropping an image
Adjusting lighting and tonal balance
Correcting lens distortion
Editing in another application
Sharing your work by e-mail
Getting help
Navigating Help in the application
Accessing Help and Support on the Web
Introducing the Workspace
Importing images into the library
Toggling screen modes
Adjusting the workspace layout
Working with the application window on Windows
Working with the application window on Mac OS
Using a secondary display
Resizing panels
Showing and hiding panels
Working with the left and right panel groups
Expanding and collapsing panels
Hiding and showing panels
Customizing the appearance of the panel groups
Working with the main display area
View modes
Grid and Loupe view options
Dimming lights
Personalizing the identity plate
Keyboard shortcuts
Importing
The import process
Importing photos from a digital camera
Organizing your copied photos in folders
About file formats
Creating import presets
Backup strategies
Renaming files as they are imported
Importing images from a hard disk
Applying metadata
Importing via drag and drop
Evaluating photos before importing
Importing and viewing video
Importing to a specific folder
Importing from other catalogs
Importing photos from Photoshop Elements
Importing from a watched folder
Specifying initial previews when importing
Tethered shooting
Tethered shooting with a supported camera
Tethered shooting with other cameras
Reviewing
Importing images into the library
Viewing and managing your images
Switching views
The Grid view
View options for the Grid view
Zooming with the Navigator in Loupe view
Comparing photos
Using Survey view to narrow a selection
Flagging and deleting images
Grouping images in the Quick Collection
Moving images into or out of the Quick Collection
Converting and clearing the Quick Collection
Designating a target collection
Working with the Filmstrip
Hiding the Filmstrip and adjusting its size
Using filters in the Filmstrip
Changing the sorting order of the thumbnails
Organizing and Selecting
Importing images into the library
Organizing folders
Creating subfolders
Making changes to a folder's content
Synchronizing folders
Using collections to organize images
The Quick Collection
Collections
Smart collections
Stacking images
Applying keyword tags
Viewing keyword tags
Adding keyword tags
Working with keyword sets and nesting keywords
Searching by keywords
Using flags and ratings
Flagging images
Assigning ratings
Working with color labels
Adding metadata
Storage of metadata
Organizing photos by location
Working in the Map module
Geotagging images captured without GPS data
Adding locations using GPS tracklogs
Saving map locations
Using the Painter tool
Finding and filtering files
Using the Filter bar to find photos
Using the Metadata filter
Using the filters in the Filmstrip
Reconnecting missing files and folders
Developing and Editing
Importing images into the library
Quick developing in the Library module
Quick and easy video editing
Trimming video clips
Setting video thumbnails and grabbing still frames
Applying develop presets to videos
About process versions
Updating the process version
About white balance
The Develop module
Cropping and rotating images
Removing spots
Adjusting a photo's tonal range
Undoing, redoing, and remembering changes
The History panel
Creating snapshots
Register for Photoshop Lightroom Training

We offer Adobe Certified Photoshop LIghtroom Training classes in Los Angeles
Austin | Houston | Phoenix | Sacramento | San Francisco | Live Online
and many other cities throughout the country via our partner network.

We offer Group Photoshop Lightroom Classes,
1-on-1 Photoshop Lightroom Training, Live Online Instructor-Led Photoshop Lightroom Training,
and Onsite Photoshop Lightroom Training nationwide.
________________________________________ Top^