Photoshop Training

Advanced Selections, Retouching & Masking
Photoshop | Level 2 builds on your existing knowledge of Photoshop and expands your list of creative techniques. Learn more advanced selection techniques, Photoshop Tips & Tricks, image compositing, retouching, color correction, filter effects, masks, working with the history brush, retouching old photos, and more!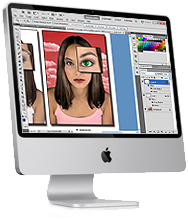 Audience
Adobe Photoshop: Level 2 is for graphic professionals who are looking for more advanced photoshop features,
advanced slection tools, color correction, tips, tricks, quick-keys.
Prerequisites
Basic Computer Skills on Windows or Mac
Have taken the Photoshop | Level 1, or equivalent knowledge
Advanced Selection Techniques
Using the Color Range command to select colors
Refine Edge Tool
Selecting Similar Colors
Saving Selections
Advanced Image Compositing
Working with Layer Masks and Clipping Groups
Blend Modes
Layer Effects
Adjustment Layers
Filters
Gradient Masks


Photo Retouching
Using the Clone Tool and the Pattern Stamp

Using the Healing Brush and the Patch Tool
Red Eye Tool
Digital Plastic Surgery (look younger in minutes!)
Whitening Teeth
Retouching Old Photos
COLOR CORRECTION
Adjustment Layers

Using Levels

Using Hue and Saturation

Using Color Balance
Whitening Teeth
Colorizing Black and White Photos
Getting Creative with BLENDING MODES
Using Blending modes for layers

Using Blending modes to apply paint
Using Blending modes for touch-ups
Using Blending modes for compositing
THE HISTORY BRUSH AND HISTORY PALETTE
Using the history brush to restore from History states
TRANSFORMING PIXELS
Using the Free Transform command
Distorting, Scaling, Skewing, Rotating, Warping
WORKING WITH QUICK MASK for Advanced Selections
Creating and Saving Selections
Transforming Selections
Loading Selections
Creating Textures
THE BRUSH TOOL
Painting with the airbrush
Using Various Brushes
Loading Different Brush Palettes
Using Burn and Dodge
Using the History Brush
THE GRADIENT TOOL
Using the gradient tool

Creating gradients
TEXT & EFFECTS
Using the text tool
Using the Liquify Filter
Layer Styles and the Styles Palette
Creating Organic Drop Shadows
Adding Glints
Masking Effects with Text
Applying Filters
Smart Filters
Register for Photoshop Training

We offer Adobe Certified Photoshop Training classes in Los Angeles
Austin | Houston | Phoenix | Sacramento | San Francisco | Live Online
and many other cities throughout the country via our partner network.

We offer Group Photoshop Classes,
1-on-1 Photoshop Training, Live Online Instructor-Led Photoshop Training,
and Onsite Photoshop Training nationwide.
________________________________________ Top^